Video:
What Is the Appalachian Trail?
What it's really like to hike the Appalachian Trail. Segment of a talk given at a university by Al Dragon, author of Avalanche and Gorilla Jim, Appalachian Trail
Al Dragon speaking at the Duncannon Festival, Ducannon, PA 2012. (To see the speech in its entirety go to Al's Video Page)
Al Dragon discusses his Appalachian adventures and misadventures
on WTMJ's
The Morning Blend
(Milwaukee):
"It was a fun interview . . . ."
–Kimberly Buchanan, Executive Producer-The Morning Blend, TODAY'S TMJ4-NBC AFFILIATE WTMJ-TV
Radio Interviews:
Carole Mark's interviews Al Dragon about this travels across Appalachian Trail.
Carole Mark's Touch of Grey Interview with Al Dragon – Part 1  (Al Dragon's segment begins at 15.20)
Carole Mark's Touch of Grey Interview with Al Dragon – part 2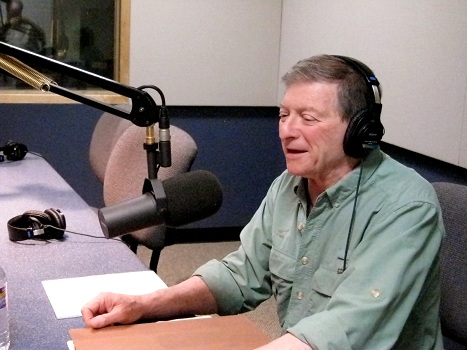 "Al Dragon was a great guest on "A Touch of Grey" with a great message. It is never too late to fulfill your dreams. His inspiring message of getting fit and enjoying nature will help the couch potatoes up and out of the house."
–Carole Marks, A Touch of Grey: The Talk Show for Grownups, nationally syndicated daily radio program
Click here to listen to Tron Simpson, radio host for Colorado Springs' top morning show (KCMN 1530AM), interview Al Dragon about his book Avalanche and Gorilla Jim and his Appalachian Trail adventures.
"You were fanblastic, Al!"
–Tron Simpson, Manager and Host, KCMN (1530AM), DJR BROADCASTING, Colorado Springs, Colorado
World-famous travel expert Rick Steves interviews Al Dragon on his weekly radio program, Travel with Rick (Interview begins at 32.55 minutes)
Bob Cudmore interviews Al Dragon on Lite 104.7 FM WVTL on August 3, 2012.
"Really enjoyed the interview!"
—Bob Cudmore, Lite 104.7 FMWVTL
Al Dragon on the Peter Greenberg Radio Show. (Al Dragon's segment begins at 1:46.55)

"I always look for interesting travel books that talk about experiences that I otherwise may not have had or could never have had better. My next guest certainly qualifies He is the author of Avalanche and Gorilla Jim, Appalachian Trail Adventures and Other Tales."
–Peter Greenberg Worldwide Radio.
Peter Greenberg is CBS News Travel Editor reporting on The Early Show, CBS This Morning, and CBS Evening News. Formerly Travel Editor for NBC's Today, CNBC and MSNBC. Peter Greenberg was Travel correspondent for ABC's Good Morning America.
Dr. Craig Wax of Your Health Matters (89.7 WGLS-FM) interviews Al Dragon: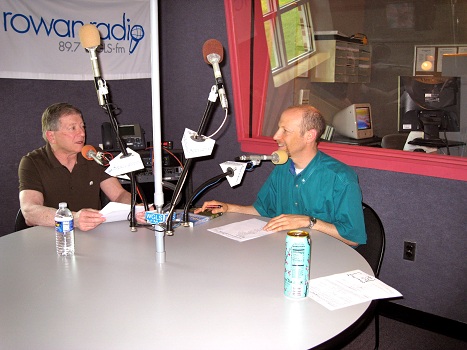 "You made a decision later in life to hike the Appalachian Trail which is probably one of the most difficult, amazing, thrilling possibilities in our country to be able to do that."
–Dr. Craig Wax, Your Health Matters, 89.7 WGLS-FM

"You are a great guest"
Marc Middleton, CEO and Founder of the Growing Bolder Media Group
Feature Articles:
Ever wonder what to do if you get lost in the woods? Read Al Dragon's article, Getting Lost and Getting Found—Hiking and Backpacking in SectionHiker
"One fear new hikers (and old timers honest enough to admit it) have is getting lost in the woods. This is the time to stop the blood rushing-to-head anxiety, open your jar of calm, and evaluate the situation. We have all been there and have survived. You're not lost, say the experts, you are disoriented."
—Al Dragon
Shore News Today (Cape May, NJ) feature article on Al Dragon,  Brigantine Resident Celebrates 75th Birthday with Publication of His Book
Review:
Jim Issac reviews Avalanche and Gorilla Jim in the October 2012 issue of Gear Editor.
Avalanche and Gorilla Jim gets an outstanding review in The VVA Veteran, the national magazine of the Vietnam Veterans of America.
"The bulk of this book deals with backpacking the Appalachian Trail, and it is a worthy successor to Bill Bryson's classic book on that subject, A Walk in the Woods . . . . I recommend this book to anyone with an interest in backpacking the Appalachian Trail."
–David Wilson and Marc Leepson, The VVA Veteran, Vietnam Veterans of America,
Talking Points:
Al Dragon is available to tell your viewers or readers about:
What it's like to hike up the mountainous spine of the United States even–when you're older
Join two guys in their 60's hiking 1,300 miles of fun-filled, gut wrenching, inspiring Appalachian Trail.  Share the humor of a long trek over often rugged terrain. Live and feel trail life, the beauty of mountains, tent living, climbing rock strewn trail, fun and camaraderie of other backpackers.
You can live the prime of your life no matter how many your chronological years
Murders on the Appalachian trail (and why they should not deter you from the joys of hiking that trail)
Why baby boomers should get off the couch, and go out and hike
Over 24 million people 45 years of age and older participate in backpacking, camping and hiking. Hiking helps prevent major health hazards like high blood pressure, heart disease, diabetes and some cancers. Over 50 million baby boomers should be joining them!
How hiking and backpacking can help the national effort to fight childhood obesity
The inexpensive family vacation . . . where you bond with your kids                 Backpacking costs little–quality time with kids doing family fun things.

The Appalachian Diet: Eat all you want on your next vacation and lose weight    Backpacking the Appalachian Trail you burn 4000 to 5000 calories a day–You can't eat enough to make up those calories.
Surviving a dangerous snow storm
How trekking the longest trail in the Eastern United States helped restore his faith in people.
What to do if you're lost in the mountains
What a Philadelphia lawyer does when he goes from active practice into highly active semi-retirement
Backpackers getting into a car with a stranger–would you hitchhike?